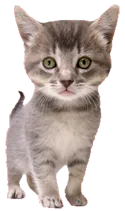 Glen Manor Veterinary Hospital is proud to serve the Glen Gardner NJ area for everything pet related. Our veterinary clinic and animal hospital is run by Phillip Roerig, who is a licensed, experienced Glen Gardner veterinarian.
Our team is committed to educating our clients in how to keep your pets healthy year round, with good nutrition and exercise. Glen Manor Veterinary Hospital stays on top of the latest advances in veterinarian technology and above all, remembers that all animals and pets need to be treated with loving care in every check-up, procedure, or surgery.
We're pleased to offer the following services in our Glen Gardner Veterinary Clinic:
Our appointment book is computerized which allows us to efficiently make appointments for you and your pet. Our receptionists and team will attempt to accommodate all requests to the best of our ability. Emergencies are accepted anytime our clinic is open. If you feel you have an emergency with your pet, please call us or come to the hospital immediately. If possible it is best to call before coming in so that a staff member can advise you on your particular emergency. Regularly scheduled appointments are seen first, however, we will try to get you in between our scheduled appointments as soon as possible. If you are not able to wait, you can drop off your pet or set an appointment when you come in for later that day or week, dependent on availability.
We have a veterinarian and personnel on duty 5 days a week who are trained and equipped to handle any urgent care your pet has. Usually an emergency team consists of at least one veterinarian and several technicians working together to save a pet's life. Emergencies can be things such a rat poisoning, hit by car, and chocolate ingestion. If you ever feel that your pet needs emergency treatment do not hesitate to call or come in immediately. If possible it is best to call before coming in so that a team member can advise you on your particular emergency.
We are also available for urgent care when the condition is not life-threatening, but you feel your pet needs to be seen before you are able to get an appointment. Our veterinarians will work to "squeeze" you in between scheduled appointments. When you arrive, our receptionists will be able to give you an estimate on how long you may have to wait in order to be seen.
For after hours emergencies, please contact:
Crown Veterinary Specialists
23 Blossom Hill Rd.
Lebanon, NJ 08833
908-236-4120
Because a large number of veterinarians practice at Glen Manor Veterinary Hospital, we can care for many types of pets:
Dogs
Cats
Rabbits
Pocket Pets
Reptiles
Small Farm Animals
Glen Manor Veterinary Hospital accepts payment via cash, check, debit, credit (Visa, Mastercard, Discover, American Express) and Care Credit. So that we can continue to provide you high quality service utilizing the best medical technologies, we request that payment be made at the time services are rendered.
We provide estimates for all surgeries and hospitalizations. If you have not received an estimate, you are welcome to request one at any time for your expected charges.